At Hill Creek Veterinary Hospital we perform many routine and some non-routine surgical procedures. We understand that surgery can be a potentially frightening concept for people and pets alike so we make every effort to minimize risk and pain to our patients, provide communication, education, and support for our clients, and maintain contact after the procedure. Our goal is to return your pet to you (usually the same day) with a successful outcome to the surgery, appropriate pain management to help them recover quickly and uneventfully, and adequate and realistic instructions to you regarding their post-operative care at home. This is how a surgical procedure usually proceeds:
Prior to surgery day:
Minimizing risk to our patients is our top priority for surgical procedures. To do this we start before the day of the procedure by doing a thorough physical exam to determine if there are any health concerns that might affect our anesthetic protocol. We may recommend pre-operative blood work depending on the age, health and risk factors for that patient. We may prescribe pre-operative antibiotics or pain medications. If a lump or mass is being removed we may also do either a cytology (microscopic exam of an aspirate of cells from the lump) or a biopsy before doing the full surgical procedure. Some time the week before surgery we will provide you with written pre-operative instructions regarding feeding, medication and transport recommendations for the day of surgery. We also give a confirmation call the day before surgery and offer instruction reminders. Click here to find our pre-operative form.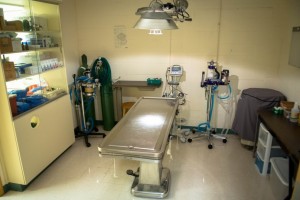 Day of surgery:
On the day of the procedure we will have you drop off your pet between 7:30 and 8:15. A Registered Vet Tech (nurse) will go over a few things with you regarding the procedure, including a review of what the pet has done that morning (Were they fasted?, did they get their medication?, etc.), information about communication during the day, and an estimate of when you may be able to pick your pet up. They are also happy to answer any questions you might have about the procedure or relay questions to the doctor. You should plan on spending 15-20 minutes for the drop-off interview.
During the procedure:
During any surgical procedure the goal is to maintain normal physiologic parameters such as blood pressure, body temperature, heart rate, and oxygen exchange. This is extremely important to minimize risk to the patient. For that reason all patients undergoing inhalant anesthetic procedures are placed on IV fluids to maintain blood pressure, are kept warm with a circulating warm water blanket or a warmed surgical table, and are monitored continuously before, during, and after the procedure. The surgical suite at Hill Creek is equipped with a heated surgical table, a physiologic monitor (which includes an EKG, a pulse oximeter (measures oxygenation of blood), a blood pressure monitor, and a temperature probe), and 2 isoflurane anesthesia machines. Anesthetic protocols are tailored to the age and health status of an individual animal, and pain is managed using appropriate medications during and after the surgery. Most importantly your pet is monitored continuously by a dedicated trained professional (either a licensed technician or a veterinarian) who has the knowledge, training and experience to respond appropriately should a problem arise.
After the procedure:
After the procedure is completed, monitoring will continue for several parameters including body temperature, pain level, alertness etc. and adjustments to their care made as necessary. Pain medications and any other drugs will be prepared to go home, as well as a sheet of written instructions for post-op management. You will be called and apprised of your pet's status and given a time to pick him or her up. At pick up the technician will go over general post-op instructions, and a doctor will go over any additional details with you. We generally call to check in the next day to make sure everything is going as expected, and to provide guidance if there are any concerns.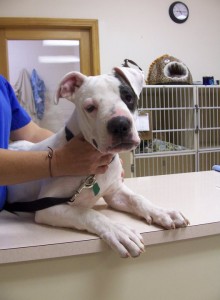 Surgical procedures we perform at our hospital at this time:
Spay
Neuter
Dental cleaning and oral surgery
Lump/mass removal
Cystotomy
Exploratory and foreign body removal
Cryosurgery for small masses
Small amputations (tail, digit, etc)
Laceration and wound repair
Thyroidectomy
Amputations
C-sections
Full-mouth extractions
Eyelid surgeries and enucleations, etc.
Surgical specialists we refer more complex or specialized cases to: